Katharina Maass appointed as fund manager of Achmea Innovation Fund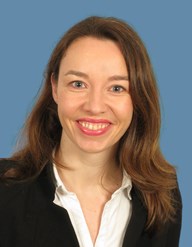 Zeist, 20 February 2020 – Katharina Maass has been appointed fund manager of the Achmea Innovation Fund with effect from 1 March 2020. With this, she will make a transfer from ING Group. The innovation fund provides growth capital to promising, largely tech businesses, operating in Achmea's strategic focus areas.
Katharina Maass joined ING in 2008, initially as Principal Investment Manager. Her most recent role at ING was Senior Program Manager and Lead Partnerships Global Advanced Analytics. Before ING, Katharina worked as Investment Manager at NIBC Bank. She began her career as a strategy consultant at McKinsey.
Jacob de Wit, chairman of the Investment Committee, is pleased that Katharina Maass will be joining Achmea. "Her wide-ranging knowledge and experience make her the right person for the job. We are firm believers in innovations that make our society healthier, safer or more future-proof. We have every confidence that Katharina, together with Achmea's various business units, will be able to identify interesting investments that contribute to this."
The Achmea Innovation Fund focuses on promising, fast-growing start-ups and scale-ups, often based on emerging technologies in the FinTech and InsurTech sectors. The fund wants to invest in businesses that operate in Achmea's strategic focus areas, such as health, mobility, home, work and financial well-being. The fund was launched on 1 October 2019 and has an initial size of €100 million.
For more information:
Marco Simmers
Corporate spokesperson for Achmea
Telephone 06 - 53 43 87 18
About Achmea
Achmea is the cooperative parent company of strong insurance brands such as Centraal Beheer, Interpolis and Zilveren Kruis. Together they form the largest insurance group in the Netherlands (approximately 14,000 employees). Achmea has a cooperative background and balances the interests of customers, partners, employees and shareholders. Achmea customers contributed premiums of approximately €20 billion in 2018. Achmea is the market leader in non-life and health insurance in the Netherlands. It also offers income protection insurance and, with Centraal Beheer APF, a good income for the future. The asset manager, Achmea Investment Management, has over €142 billion in assets under management. Achmea offers mortgages via Centraal Beheer and Woonfonds, among others. In addition to the Netherlands, Achmea is also active in Turkey, Greece, Slovakia, Australia and Canada. www.achmea.nl/en